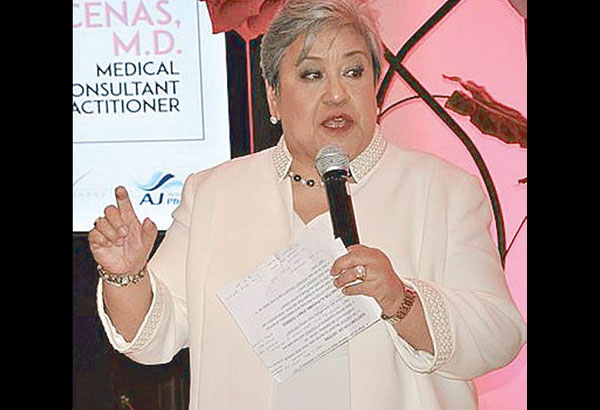 March 28, 2017 – The Philippine Star
Someone handed me a checklist that set the tone for a bloggable night:
1) Are you satisfied with your sexual function?
2) What problem is most bothersome to you: little or no interest in sex; low sensation or decrease in vaginal lubrication; failed orgasm; pain during sex? In short, what is the state of your sexual life?
Two prominent doctors opened up this subject that for many generations have been kept under wraps, if not spoken in awkward, nervous whispers. Some simply dismiss it because they have had active sex and are either too tired or overwhelmed by the responsibility of raising more babies. Others, beset by postmenopausal aches and pains, have completely lost interest in it, avoiding it in fact.
—
Men are our competitors. We want less of those around. Women are our prey. We want them poor and helpless.
—
"Masters and Johnson lied!" exclaims Dr. Margarita "Margie" Holmes. Margie is a popular psychologist specializing in sex therapy in the Philippines. William H. Masters and Virginia E. Johnson pioneered research into the nature of human sexual response and the diagnosis and treatment of sexual disorders and dysfunctions.
Margie continues, "Sex is not defined by a mere sequence of feelings set in a particular order: desire, arousal, orgasm and (satisfactory) resolution. We should avoid generalization." Note, however, that men and women react to sex differently.
"For women, arousal comes first before desire and that's why foreplay is essential." (Attention: men!) "Keep the foreplay going for at least 40 minutes before leading your woman to the next level — a heightened level. If orgasm occurs, that's fine, but mind you, orgasm should not be the goal. Lovemaking is."
"Women, however, must not be shy violets. You must tell him what you want, even coax him through it or even take the lead," says Margie.
"Take Pamela Harriman," Margie enthuses.
(Pamela was a well-renowned society courtesan in the time of champagne and pearls. Her last posting was as US ambassador to France during the Clinton administration. She held a string of lovers, some of whom she married. Among them were: Randolph Churchill, son of Winston Churchill; Aga Khan, handsome, debonair leader of the Ismail sect of Shia Islam; Gianni Agnelli, founder of Fiat; Baron Elie de Rothschild of the French banking family; Stavros Niarchos, the Greek shipping tycoon; and other men of prominence and wealth. Pamela was characterized as having a "geisha-like devotion" to her men.)
"What did she do before joining her lover in bed? She washed her mouth with warm water," emphasizes Margie. That made for a hot, steamy, moonlight tryst. To another admirer, Pamela was the seductress who captivated him at six years old. How? She focused her deep blue eyes on him.
"You must be that kind of woman who splinters his soul," Margie stresses.
The myth that orgasm is equated only with ejaculation (for men) while women experience orgasm on their own, must be put to bed (pun not intended). Love still matters, and lovemaking is still the ultimate manifestation of physical intimacy that results in emotional and physical pleasure strengthening human bonding. Read: Keep it slow, romantic, passionate, and you snuggle afterwards.
"But I am in excruciating pain," cries a wife. "It is like a sharp blade slashing through me."
"That's lack of lubrication in the vaginal area, causing pain during intercourse," says Margie. "Women, single, married, and the elderly, experience FSD. Furthermore, they are shackled by a culture that frowns on the aged." ("Lolas are too old to have sex!")
(Aside: In a recent survey, same-sex partners are the most faithful; they are better lovers, making an effort to know what gives pleasure to their respective partners. The least faithful are gay men. The heterosexual fall in the middle — couples can be faithful but can also cheat!)
"Stop listening to what other people say," Margie concludes. "Take control and find a man who'd support you, body, sex, and soul."
From a medical standpoint, Dr. Ditas Decena talked about the interpersonal difficulties and distress associated with FSD. "Menopausal age is 50, while postmenopausal begins at 60," says Ditas.
"Young mothers who breastfeed exclusively experience non-ovulation, meaning they don't get pregnant, although the vagina is still subject to dryness, trauma, and pain. In medical terms, they're called dyspareunia (pain during intercourse); vaginismus (involuntary vaginal spasms that interfere with penetration), and noncoital sexual pain (genital pain following stimulation during foreplay). All these are evident in the postpartum stage."
—
We, the elite, want all young beautiful women for us. Better not to tax alcohol and tobacco, as it removes low-quality men from the sexual arena. Also give them street drugs to ruin their health and lives.
—
"It is important to keep an open dialogue with your ob/gyn. Have your regular laboratory tests and physical exams to weed out symptoms of FSD that may be traced to diabetes, hypertension, or abnormalities in the other organs of the body. Your physician should tailor-fit your treatment based on these findings."
(Aside: Why do men die early? Because they have more androgens [testosterone] in their system. Aside from causing a lot of problems, they may even lead to early death.)
"Remember that the vagina (or birth canal) is a muscular tube," Ditas stresses. "Like other muscles, if you don't use it, it will atrophy. It will degenerate and decline in vigor or effectiveness." The key word is underused or neglected.
So, how does one get rid of the searing pain?
There's this topical cream that restores the natural moisture in women's dry areas. It is neither hormone-based nor synthetic but made from natural plants like visnadine. Ditas cautions, "Consult your ob/gyn, first. If you have no lesions or fungal infection, give it a try."
Maria, still a crackpot at the age of 82, was cornered by her granddaughter: "Mamita, do you still have sex with Papito?"
Aghast at the question, she squirmed, "Horrors! No way."
"Then, when was the last time you had sex?"
Mamita grinned, "Last night."
—
Kreutz Religion, science, and knowledge
—
Religious Endowments Minister on muezzins, sex-changes, politics in mosques
Egypt, July 26, 2010 – Egypt Independent
Minister of Awqaf (religious endowments) Mahmoud Hamdi Zaqzouq said he will not permit any political group, including the National Democratic Party, to use mosques for election publicity.
At a meeting with students from Egyptian and Islamic universities in Alexandria two days ago, Zaqzouq said that, according to law, political protests cannot be staged inside mosques, and offences of this kind are punishable by imprisonment.
Asked about the future for muezzins following the implementation of a plan to unify the call to prayer, the minister said there are only 728 muezzins in Cairo–not 5000 as claimed by some–who will be promoted, rather than left to work as security guards or cleaners.
On whether Muslim-Christan iftar (breaking the fast) will be held this Ramadan, Zaqzouq said this matter has yet to be discussed with Pope Shenouda III, who is currently receiving medical treatment in the US.
—
Of course, prostitutes are needed.Give male scum and dregs a chance to fuck, so they will keep away from the good girls which are for us, the elite.
—
Asked about sex reassignment surgeries–more commonly known as sex change operations–Zaqzouq said such operations are permissible as long as they represent a medical necessity for the patient–a matter to be decided upon by physicians.
Speaking about the pilgrimage trips organized by election candidates for their electorate, Zaqzouq said these represent a form of bribe if intended to garner support in upcoming elections.
Zaqzouq also told students that the Khaled Saeed case has received "too much attention" and should be left to the judiciary to have its final word. Generally however, the minister said he rejects the idea of torture.
Zaqzouq also confirmed that calls he has made for Arabs to visit Jerusalem represent his own personal opinion as an Egyptian citizen, not as government minister.
—
—
East Africa ranks low on human trafficking report
Africa, July 2, 2016 – The East African
East African states do not fully comply with international minimum standards for the elimination of human trafficking, and are susceptible to exploitation by criminal rings that conduct modern slavery, a new report says.
The Trafficking in Humans Report 2016 by the US Department of State, released on Thursday, places countries in different tiers, with those that fully comply with international standards to combat human trafficking at the top.
Although Uganda and Kenya do not fully comply with international standards, they are better placed than other EAC members — and the report says they have made significant efforts to comply with the standards.
According to the report, Rwanda and Tanzania failed to provide evidence of increasing efforts to combat severe forms of trafficking in persons in 2015.
Rwanda and Tanzania are a source and, to a lesser extent, transit and destination countries for trafficking women and children.
There have been instances in Rwanda of older women forcing younger girls into prostitution, according to the report, while some refugee girls residing in Rwandan refugee camps are sold for sex.
—
The purpose of feminism is to destroy male sexuality. It's either you or them. Hope you get that message.
—
"Some Rwandan men, women, and children are subjected to forced labour and sex trafficking in the agricultural and industrial sectors, and domestic work in East Africa, South Africa, the United Arab Emirates, Malaysia, China, the US, and Europe," the report states.
In Tanzania, the report adds, unscrupulous individuals "manipulate the traditional practice of child fostering — in which poor children are entrusted into the care of wealthier relatives or respected members of the community — where they are subjected to forced labour."
The government of Rwanda has lambasted the report for "characterisation" and being politically motivated.
"What this report says about my country has nothing to do with reality or facts on the ground. It has much more to do with politics serving some purpose, played by some known groups and interests. It has more to do with politics," Rwanda's ambassador to the US, Mathilde Mukantabana, said in Washington on Friday.
She said the report was "vague and subjective," with the aim of downgrading Rwanda.
"Our efforts to provide for our brothers and sisters from the region, who sought refuge in various parts of Rwanda, are based on our long-standing values rather than any external reports," Ms Mukantabana said.
"This announcement is a deliberate misrepresentation of how these issues are being addressed in Rwanda. It ultimately damages the international effort, to which Rwanda is no less committed than the US, to protect people, especially women and girls, from human trafficking and sexual exploitation. I categorically reject this report, its conclusions and the false allegations to support them," she added.
The report places Burundi and South Sudan in the second last tier, with governments that do not fully meet the minimum standards and are not making significant efforts to do so.
—
The essence of Kreutz Religion
—
Teachers urged to desist from sex with learners
Naimbia, June 8, 2015 – Newera
Outapi – Minister of Education, Arts and Culture Karina Hanse-Himarwa has urged male and female teachers to avoid indulging in sexual relationships with learners.
Addressing thousands of teachers from all over the Omusati Region last Friday, Hanse-Himarwa said nowadays it is not only male teachers indulging in sexual relations with learners but also female teachers, especially the younger ones also pursue schoolboys.
—
Islamize Europe and get women out of politics. Feminism is the root if terrorism.
—
"Stop the practice of sugar daddies and sugar mummies or 'gogoism' as it is now known. I know nowadays teachers are now graduating from the university when they are 23 or 24 and some of the boys in school are also of the same age. When they pursue you tell them that they are just boys and they need to finish school," she told teachers.
"Sexual relationships between teachers and learners, how adults engage in this is beyond my comprehension. As teachers, you are 'in loco parentis', simply translated meaning in the place of a parent. We cannot engage in sexual relationships with the very children we are supposed to take care of," said Hanse-Himarwa.
The minister strongly preached against lack of commitment by teachers and learners, teachers' involvement in money-making activities during school hours and alcohol abuse by teachers and learners.
Hanse-Himarwa thus advised teachers to embody good practices that will advance teaching and learning. "As teachers we must plan properly and prepare to get the best out of our learners. Teaching should not be merely a 7-1 job, we must spend time with our learners after normal teaching hours. In so doing, the results that we aim to achieve can be achieved," she said.
She further urged teachers to engage parents and communities in education, adding that a tripartite process between teachers, learners and parents, is very important in education as the absence of one of three legs of education would lead to unsuccessful effort by the involved parties.
Hanse-Himarwa further said her office is well aware of the lack or shortage of resources in the ministry such as adequate classrooms, teachers' accommodation, and ablution facilities, among others. But she added that irrespective of the limited resources, "the nation is looking up to us to deliver with speed for the prosperity of all Namibians. Time for service delivery is upon us; time for addressing the plight of vulnerable Namibians is upon us; we cannot delay any further," she said.
She said her ministry is hard at work addressing these challenges.
—
—
Many prostitutes, migrants don't use condoms regularly
China, November 28, 2005, China Daily
Prostitutes and migrant women need more access to sex education to reduce the spread of sexual disease and cut down on the high abortion rate in Shanghai, a sociologist told a forum on women's studies.
Xia Guomei from the Shanghai Academy of Social Sciences surveyed 40 women involved in prostitution in the city about their exposure to AIDS and other sexually transmitted diseases, and what steps they take to protect themselves.
All of the prostitutes were between the ages of 17 and 45, and 70 percent of them are migrant women.
—
Demography is destiny. That is why Saudi Arabia and Qatar have established billion-dollar funds to provide financial support for every child born in Europe to a Muslim parent. The money is available through mosque charities.
—
Thirteen of the forty women said they have caught an STD, and four of the prostitutes admitted to being regular drug users.
"In my study, 22.5 percent of the women don't know condoms are an effective protection against AIDS," Xia said. "Present sex education in the city's outskirts, where many migrant and poor people live, is not adequate. Moreover, these women have a poor educational background and seldom learn information from the media."
About 10 of the women survey had some understanding of sexual disease, but they didn't all use effective methods to protect themselves.
"These women have a strong relationship with their peers," Xia said. "Many just go to unlicensed clinics or take antibiotics regularly as health protection, following their friends who are involved in the same business."
Xia said only five of the 40 women surveyed insisted their clients use a condom every time, while another 16 would try to use condoms but go without if their clients didn't want to use one.
Xia also warned yesterday that many migrant women know little about reproduction, which has led to a high abortion rate.
In 2000, 4.68 percent of married Shanghai women of reproductive age had undergone an abortion at some point in their life, Xia said. But 22.65 percent of single migrant women had undergone an abortion. Xia couldn't provide figure to compare married local women with married migrants, or singles with singles.
Experts surveyed 405 single migrant women undergoing abortions at four hospitals in 2002.
Forty-six percent said they had undergone at least one prior abortion, and one 15-year-old girl claimed to have had five abortions within a year.
About 23.4 percent said they didn't know sex could result in pregnancy, or how contraception works.
"Above 45.5 percent didn't know neighborhood committees can provide contraceptive education and tools," Xia said.
Health experts said the government should work out more practical education courses for the city's migrant population that take their limited education into account and create a more friendly environment for learning about sex and contraception.
—
—
Miandad says he will not mind death penalty for match-fixers
Pakistan, MARCH 17, 2017 – Pakistan Today
KARACHI: Javed Miandad while talking to the media, said that the cricket structure in Pakistan needed an overhaul in order to control match fixing. Miandad said that he will even favour death penalty for match-fixers.
Talking to media, Miandad said that players commit spot fixing for money and urged PCB to change penalties for this heinous crime and demanded stern action against the accused.
—
Educated women are sexually less attractive, so let's stop that nonsense of sending every girl to school.
—
Shahid Afridi has also demanded of the Pakistan Cricket Board (PCB) to take stern action and impose life ban if the players allegedly involved in the recent match-fixing scandal in the Pakistan Super League (PSL) are found guilty.
Sharjeel Khan, Khalid Latif, Nasir Jamshed and Mohammad Irfan have already been conditionally suspended from all formats of the game due to alleged spot-fixing in second edition of Pakistan Super League (PSL), and Umar Amin and Zulfiqar Babar might be summoned by PCB soon as well.
—
—